Tropical depression forms, forecast to become hurricane on way to Florida: See track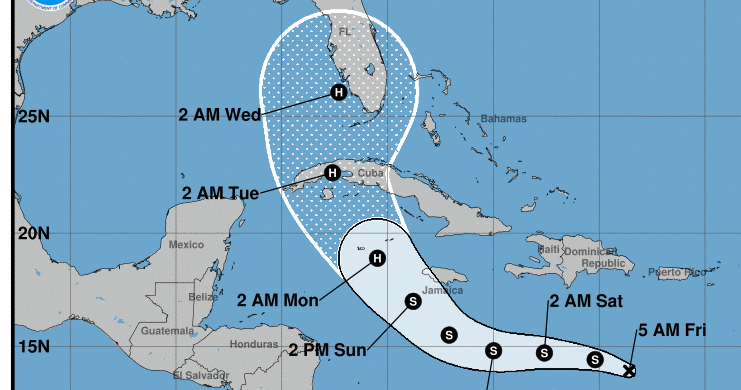 image source google by-https://flipboard.com/
It's expected to reach the Gulf of Mexico on Tuesday.
A tropical depression formed in the Caribbean Sea and is expected to become a hurricane on its way to the Gulf of Mexico, hurricane forecasters said Friday.
The storm is on track to hit Jamaica and Cuba before turning east toward Florida, according to the latest path from the National Hurricane Center.
A tropical storm watch was issued for Jamaica as the depression strengthens into what would become Tropical Storm Ian on Sunday, according to forecasters.
It was expected to strengthen into a tropical storm by Friday night, followed by rapid intensification in the Caribbean Sea, but was still a depression as of 5 p.m., meteorologists said. The storm is forecast to become a Category 2 hurricane by the time it reaches Cuba, then a Category 3 storm in the Gulf of Mexico.
Landfall is expected Wednesday in Florida.
There is still a "healthy amount of uncertainty" in the track forecast at days 4 and 5, which is when the storm is expected to be in the Gulf of Mexico, hurricane forecasters said in their Friday morning advisory.
The current forecast has the storm making landfall in south Florida near Naples and Fort Myers. But, the location of landfall will depend on how quickly the storm turns east. Meteorologists are urging residents in the Florida Keys and the Florida peninsula to monitor the storm closely.
5 systems in the tropics
Two tropical depressions formed Friday morning - one in the Caribbean and another in the Atlantic. Hurricane forecasters are now tracking five systems:
Tropical depression in Caribbean
Hurricane Fiona in Atlantic
Tropical Storm Gaston in Atlantic
Tropical Storm Hermine near Africa's west coast
Disturbance in the Atlantic
Hurricane Fiona, Tropical Storm Gaston and the other systems in the Atlantic don't pose a threat to Louisiana. Residents along Canada's Atlantic coast are bracing for Fiona, a Category 4 hurricane.
The next storm names are Ian and Julia if any of the depressions strengthen into a tropical storm.
Depression in the Caribbean
The ninth tropical depression of the season formed Friday in the Caribbean.
The system already has a well-defined circulation, and the Air Force Reserve Hurricane Hunters investigated the storm's structure and intensity Friday morning.
As of 10 a.m. Friday, the depression was 515 miles southeast of Kingston, Jamaica, and about 1,015 miles southeast of Havana, Cuba. It was moving northwest at 14 mph.
It's expected to bring rain to the islands as it heads toward the Gulf of Mexico. Jamaica could get up to 12 inches and Cuba could get up to 14 inches, which may lead to flash flooding and mudslides.
Rapid intensification expected
The depression has winds of 35 mph and slow strengthening is expected in the next day or so.
Rapid and "significant" intensification is expected Sunday and Monday as the storm crosses the Caribbean, forecasters said. It's expected to have peak winds of 115 mph in the Gulf of Mexico, which would make it a Category 3 storm.
The storm will have the potential for "significant" impacts from storm surge, hurricane-force winds and heavy rainfall. It's too soon to determine the exact magnitude and intensity of these impacts, so forecasters on Friday morning urged residents in Cuba, the Florida Keys and the Florida peninsula to monitor the storm closely.
Some swells could reach Louisiana
The storm is not expected to be a significant threat to Louisiana on its current track, forecasters with the National Weather Service in Slidell said in their 10 a.m. update.
However, the storm is forecast to create large swells in the Gulf of Mexico by the middle of next week. Those will likely result in hazardous conditions across the coastal waters, especially about 20 nautical miles from shore, forecasters said.
Some of the waves and swells could reach the open shoreline and create dangerous rip currents along Grand Isle in Louisiana and Ship Island in Mississippi.
See the full advisory. The next one will be issued at 4 p.m.
Hurricane Fiona heads to Canada
Hurricane Fiona strengthened and regained its Category 4 designation in the Atlantic on its path to Canada.
The hurricane is not expected to make landfall on the U.S. mainland.
As of 1 p.m., it was about 475 miles south of Halifax, Nova Scotia. It's racing northeast at 35 mph and is expected to approach Nova Scotia later in the day.
The storm has been blamed for directly causing at least four deaths in its march through the Caribbean, where winds and torrential rain in Puerto Rico left a majority of people in the U.S. territory without power or running water.
See the full advisory with current watches and warnings.
New depression in the Atlantic
The 10th tropical depression formed Friday morning in the Atlantic.
It's off the west coast of Africa and strengthened into Tropical Storm Hermine Friday afternoon.
As of 10 a.m., it had windsof 35 mph and some strengthening is expected in the next day or two before the short-lived system starts weakening, forecasters said.
It's expected to bring rain to the Canary Islands.
Tropical Storm Gaston in Atlantic
Tropical Storm Gaston strengthened Friday on its way to the central Azores, forecasters said.
It does not pose a threat to the U.S.
As of 1 p.m. Friday, Tropical Storm Gaston was about 80 miles north of Faial Island in the central Azores and was moving southeast at 9 mph.
It has winds of 65 mph, and gradual weakening is expected over the next few days.
Read the full advisory with current watches and warnings.
Disturbance in Atlantic
Hurricane forecasters also are tracking another system in the Atlantic.
A broad area of low pressure is several hundred miles southwest of the Cabo Verde Islands and continues to produce some disorganized shower and thunderstorm activity.
Some slow development is possible while it drifts slowly northwest over the Atlantic.
It has a 30% chance of developing into a tropical depression within five days.
Busiest time of the season
This is historically the busiest time of the Atlantic hurricane season.
In the last 100 years, the tropics have been the most active in August, September and October, with Sept. 10 being the peak of the season, according to federal forecasters. About 80% of the systems that have hit the Gulf Coast formed during this time, according to the National Weather Service in Slidell.
So far, there have been seven named storms this season - Alex, Bonnie, Colin, Danielle, Earl, Fiona, Gaston and Hermine. The next available name is Ian.
Hurricane season ends Nov. 30, but storms can form any time.
Storm categories
The categories, in order of increasing strength, are tropical depression, tropical storm and hurricane (categories 1 through 5). A system is named when it develops into a tropical storm.
On the Saffir-Simpson Hurricane Wind Scale, the wind categories are:
Tropical depression: up to 38 mph
Tropical storm: 39 to 73 mph
Category 1 hurricane: 74 to 95 mph
Category 2 hurricane: 96 to 110 mph
Category 3 hurricane (major hurricane): 111 to 129 mph
Category 4 hurricane: 130-156 mph
Category 5 hurricane: 157 mph and higher
Now is the time to review hurricane plans and make sure your property is ready for hurricane season.
Here are some tips from the National Weather Service for how to prepare for the season:
Put together an emergency kit. Here are 60+ nonperishable items to consider including.
Check emergency equipment, such as flashlights, generators and storm shutters.
Make a plan with your family or close friends and decide how you will get in touch and where you will go if there's an emergency. Here's how to decide if you should evacuate.
Plan your evacuation route and have an alternate route. Here are 15 things to do before evacuating.
Make a plan for your pets. Here are some tips.
If you have a generator, check it and see if any maintenance needs to be done. Don't forget these important generator safety tips.
Do any maintenance you've been putting off on your vehicle.
Review your insurance policies.
Keep your trees around your home trimmed to prevent damage from broken branches. Here's advice from gardening expert Dan Gill.
Have materials in advance to board windows to protect them from flying debris.